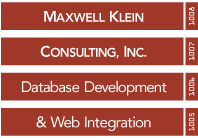 As of April 15th, 2015 our hourly rate is $110. For on-site visits there is a 1 hour minimum, then in 15 minute increments thereafter. Time includes one-way travel to a work site, but we also have access to many secure methods for remote meetings, review, support and development. There is a 15 minute minimum for remote, phone, or email support, then in 1 minute increments thereafter. Invoices are submitted weekly or after 20 hours, whichever comes first and are net 30 days.

Invoicing is based on time and material. The first 2 hours are free for consultation, travel, and/or scope of work for new clients, any additional time is billed hourly. For non-profits, large projects, or advance payment, we are willing to consider a reduced hourly rate.

Our work schedule is flexible, and we will go to great lengths to accommodate clients needs. We charge time and one-half on weekends and weekdays after 8pm and before 8am for emergency support.

We enjoy working in a team environment and sharing what we know. If you have employees or other vendors that will play a part in a project or solving a problem we're happy to work with them. When and where possible we prefer having the best suited person on hand to accomplish a given task. It is ultimately more profitable and educational to allow people with experience and knowledge to step in where needed than for us to get in the way just to charge for a few more hours.

We love the work we do and strive for a diversity in projects. If you have a proposition to work in a manner not described above we'd be happy to hear it.