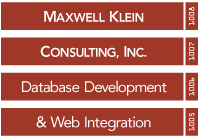 RECENT and ONGOING:

Daniel Stein Antiques - Dynamic FileMaker/Lasso website, and hosting, for antique dealership located in the historic Jackson Square district of San Francisco. Provides a simple to use and searchable on-line inventory. Built years ago but just recently under went major facelift based on the excellent designs of Mary Birchler Design.





Enologix - Sophisticated FileMaker and Lasso website and back-office system for Enologix of Sonoma County, California. Provides information about Enologix products, winemaker review forum, magazine articles, job board, and client center. The Enologix client center contains a browser based version of their proprietary Quality Management System (QMS). All content on the site is controlled though a database accessible via the Internet.





Floors By Nature - FileMaker/Lasso website, and hosting, for natural flooring products.





Full Belly Farm - FileMaker and Lasso systems to track orders and customers, streamline picking and packing workflow, item/crop tracking, CSA on-line website, and complex reporting for a large organic farm in Guinda, California.





Insight Editions - Complex FileMaker print management system for international print broker and publisher of "illustrated books of distinction that celebrate cultural milestones in entertainment, history, and the arts".





Jessie et Laurent - Web-based system for ordering a weeks worth of delicious and reasonably priced gourmet meals that are delivered to your home. Orders are downloaded and processed through a FileMaker system to insure meals are tailored to any dietary needs or preferences.





Legal Assistance to the Elderly - FileMaker support for this great nonprofit organization that provides legal service and assistance on civil matters, landlord/tenant issues, and health insurance counseling to San Francisco residents 60 years and older.


Mindy Hall - Website build and hosting for Oscar-winning Hollywood makeup artist and author - think Star Trek eyebrows.


Pegasus Imports - Wholesale jewelry supply with on-line order system - FileMaker hosting and support.





Stanford Jazz Workshop - FileMaker and on-line registration system for nonprofit organization dedicated to jazz education and appreciation.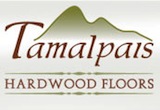 Tamalpais Hardwood Floors - Technical support for Lasso website, FileMaker systems, and website hosting.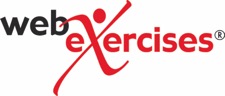 WebExercises Website & On-line Rehabilitation System - A patent-pending FileMaker and Lasso system that allows practitioners to prescribe rehabilitation exercises via a web browser. Patients log in via a secure website to review prescriptions and access text and video description of their exercises.



LESS RECENT:

Cattledog Publishing & Dr. Sophia Yin - Various FileMaker and integration systems development for renowned animal behavior expert, Dr. Sophia Yin, DVM, MS.

E2K - Secure on-line FileMaker/Lasso RSVP system for the events surrounding the opening of the 49ers new Levi's Stadium.

Flex Your Power - Site migration, development, and tech support for a sophisticated FileMaker/Lasso website that runs California's statewide energy efficiency marketing and outreach campaign.

MBM Services - Simple, yet effective, work order submittal web form with photo uploads.

Moresco Distributing Company - Complete FileMaker CRM system built to help sales reps more effectively process new leads and streamline workflow for the sales support staff.

Union Sanitary District - Technical support for FileMaker and Lasso systems.

WebExercises Desktop - A double-clickable 'desktop' app version of the WebExercises Rehabilitation System.

Wine Appellations - Inventory and on-line order processing system for wine brokering organization.


ANCIENT (but not forgotten) HISTORY:

abusDocumentManager - Simple yet powerful FileMaker and web-based document categorization and posting system. Email notification management of updated and new documents. Document access control at the user, group, and category level.

abusHelpDesk - Web-based ticket submission and technical support tracking system.

abusNotes - FileMaker and web-based to-do list management system for the University of California Office of the President.

abusSecureLobby - Lobby and visitor management solution for improving lobby security, badging, key tracking, and vehicle fleet sign-out.

abusSTAR - Education Management Information System (EMIS) for school administration, tracking student attendance, grades, registration and timetables. With web-based access for students, parents, teachers, and administrators.

AnjaliArt - FileMaker and Lasso website for Marin-based artist.

Apple eNews - Publishing system for Apple's free eNews, iMac, and QuickTime email and web-based newsletters. Manages newsletter templates and automates the ability to edit, archive, track comments, and deliver each newsletters on a regular basis.

Circle of Fifths - Design and illustration of a visual representation of the Circle of Fifths.

Employment Law Alliance - Database system and website for tracking and displaying ELA members contact information, press releases, legal updates, articles, publication, polls, surveys, and general news related to employment law. Also organizes and tracks registrations for seminars relating to employment law, or seminars given by ELA members.

Marin Arts Council - Technical support for FileMaker systems.

Microgenics - Document management and routing system for chemical testing company.

OAN LoadView - A partial load and transport coordination website for the Oregon Association of Nurseries members and guests, with more than 1,400 nursery stock producers, retailers, landscapers and allied companies in the nursery and greenhouse industry. Nurseries with smaller loads can use LoadView to find other nurseries with loads going to the same place -- by grouping their loads together on the same truck, they dramatically reduce shipping costs for their customers around the nation. Trucking brokers also use LoadView to efficiently group smaller loads into a single truck, increasing the number of hauls they can made.

Richardson Architects - Integrated project management system for architectural firm.